The Notre Dame Lectures
Peter Cholak (Editor)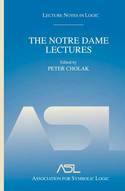 Year: 2005
ISBN: 1-56881-250-7
200 pages. Paperback.
Year: 2005
ISBN: 1-56881-249-3
200 pages. Hardcover.
In fall 2000, the Notre Dame logic community hosted Greg Hjorth, Rodney G. Downey, Zo Chatzidakis, and Paola DAquino as visiting lecturers. Each of the presented a month long series of expository lectures at the graduate level. The articles in this volume are refinements of these excellent lectures.
Table of Contents
Countable models and the theory of Borel equivalence relations.
Greg Hjorth
Index for Countable modesl and the theory of Borel equivalence relations.
Model theory of difference fields.
Zoé Chatzidakis
Index for Model theory of difference fields
Some computability-theoretic aspects of reals and randomness.
Rodney G. Downey
Index for Some computability-theoretic aspects of reals and randomness.
Weak fragments of Peano Arithmetic
Paola D'Aquino
Index for Weak fragments of Peano Arithmetic